Top 5 Takeaways from the 2023 WIPR Mastermind Virtual Summit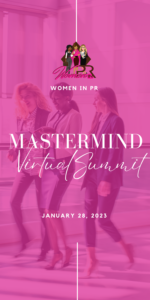 On Saturday, January 28 members of the Human Impact Solutions team spent the day on Zoom to participate in the "Women in PR" Mastermind Virtual Summit hosted by Women In PR, a prominent online community and resource that caters to the next generation of public relations professionals. Over the course of 7 hours, registrants were treated to a dynamic series of session topics and speakers that offered plenty of gems to help seasoned and entry-level PR professionals alike.
As an agency that's been in the business more than 12 years, we were still able to gain a lot of knowledge, information and validation from these amazing industry influencers and peers. Here's our roundup of the top 5 takeaways gleaned from this weekend's WIPR Mastermind Virtual Summit:
_____
1. Your Network is Your Net Worth. This refrain was echoed in some shape or form across the various discussions held throughout the day, with the main message being crystal clear: you're only as strong as the quality and strength of the company you keep. Whether you own your own agency or operate as a freelance solo-preneur, it's critical that you create time and space to invest in healthy and consistent relationship building with fellow practitioners, journalists, industry vets and of course past and current clients. In this post-COVID digital age, ensuring that all of your PR relationships are grounded in professionalism, authenticity and reciprocity is the true path to success and longevity.
2. Treat Journalists Like People. This shouldn't need to be said, but a major point of agreement amongst journalists in the panel, "Media Relations in the New Age," was that too many publicists contact them without using industry-standard PR etiquette or even basic professional courtesy. Things like sending emails without proper greetings or salutations, misspelling and/or misidentifying journalists names, contacting at late hours, and not bothering to do preliminary research to ensure alignment with their beat were called out as some of the worst faux pas that a PR practitioner can make. Rather than approaching them in a strictly transactional manner, take time to engage with them and demonstrate an interest in getting to know them outside of and beyond your immediate needs. Otherwise, prepare to find yourself on the Block List.
3. Show Your Work. No matter if you run a firm or work freelance, having a system to demonstrate the work you do for clients on a daily basis is such a valuable asset for creating transparency and accountability on both the agency and consumer sides. First, sending Monthly Activity Reports (MARs) is a great way to keep clients informed of the day-to-day activities involved with representing them, even down to the most mundane task. It's especially useful if you have a particularly anxious client who's constantly questioning what work is being done on their behalf. Additionally, one of the most effective ways to demonstrate the fruits of your labor is by doing regular round ups of client wins via your website and social platforms, and/or occasionally offering behind the scenes glimpses into your team's strategic process. 
4. Use Proper Social Networking Etiquette. This is something that many PR professionals are still trying to get right, us included! During a conversation about how best to pitch journalists through social media, writer Jazmyne Byrd (Sheen, Hello Beautiful) dropped some serious gems, including their preference for socials to be used solely for introduction purposes. While it's fine to use someone's Instagram or Twitter DM to gauge their openness to unsolicited pitches, or to ask for proper email info, it's never wise to drop your entire pitch letter into the message. Furthermore, always be mindful of your timing. As fellow panelist, Urban Magazine Editor B'en Original advised, sending a DM at inappropriate hours without having already well-established that kind of rapport is both unprofessional and highly likely to make the other party feel super uncomfortable. 
5. Keep Your PR Pitch Pithy and Well-Packaged. Take BET Lifestyle Editor Tweety Elitou's advice: if your pitch letter lacks basic branding components like bios, headshots, media kits and other key assets related to your client's company or campaign, it might as well be dead on arrival. We all have multiple balls in the air on any given day; journalists and editors are certainly no different and as such, don't have the time to thoroughly research your client to assess their coverage viability. The onus is also squarely on you to paint a clear picture of why your client's story is worth them dedicating precious attention and effort on. Look at it this way: the more you're able to showcase your resourcefulness as a PR professional, the greater value they'll see in maintaining an ongoing relationship with you.
Did you also attend the Women in PR Mastermind Virtual Summit? We'd love to continue the conversation with you!
Follow us over on IG @humanimpactpr and share your thoughts.