Janet A. Dickerson, Co-Founder & Principal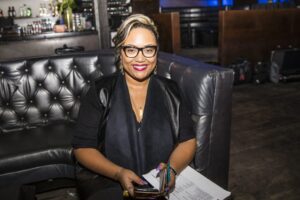 Janet A. Dickerson is a seasoned communications expert and cultural strategist with nearly two decades of experience delivering high-impact public relations and integrated marketing services for social impact campaigns and causes from grassroots to global. Dickerson's career began in government as Press Officer for now-U.S. Senator Cory Booker while he was Mayor of Newark, New Jersey. She then served as Deputy Press Secretary for New York City Mayoral Candidate William Thompson, after which she transitioned into the role of Press Secretary for PolicyLink Founder and CEO Angela Glover Blackwell.
Since co-founding Human Impact Solutions in 2010, Dickerson has advised numerous non-profits, philanthropic organizations, political campaigns, activists/organizers, authors, artists, entertainers and more. Her community of clientele over the years has included 7x NBA Champions Golden State Warriors, Ava DuVernay/ARRAY, W.K. Kellogg Foundation, Movement for Black Lives (M4BL), Black Philanthropy Month, Kaiser Family Foundation, New Venture Fund, The Decolonizing Wealth Project, Campaign for Black Male Achievement, Blackout for Human Rights, Black Mamas Matter Alliance, Advocates for Youth, and activist/humanitarian Harry Belafonte's organization, Sankofa.org, among many others.
Dickerson also serves on the board and as Vice President of Media Relations for the Black Public Relations Society – New York (BPRSNY) and was a 2021 American Express Social Justice Leadership Academy Fellow. She earned her Bachelor's in Journalism from Temple University and currently resides in the New York area with her husband and daughter.